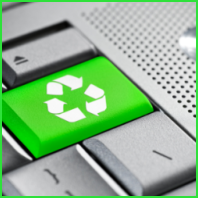 We all need to be aware of our environmental impact
Going Green: Overview
The Problem
In these days of increasing environmental awareness, it is vital your ICT plays its part in helping to save resources while also creating quiet learning spaces.
You need to consider the following questions:
How can we reduce our ICT power consumption?
How can we extend the useful life of our computers thereby avoiding unnecessary disposal and its impact on the environment?
How can we reduce other power costs, such as air conditioning?
The Solution
"Going Green" is not that difficult, it requires you to look at your ICT and explore ways to:
Change to new thin-clients devices, they use the same power as a low-energy lightbulb
Convert old PCs to thin-clients to extend their life-span and avoid the impact of wasteful disposal
Consolidate your servers to a virtualised farm by reducing your server hardware. This will decrease your power requirements and reduce the need for air conditioning.