It was 20 years ago today...
Dated: 19/10/2016
Stephen Borrill, Director and Systems Architect writes:
20 years ago in October 1996, while working for Acorn Computers (in Technical Support for its Education division, Xemplar Education), I was given a Acorn Network Computer (or NC for short). This was a tiny diskless workstation running a cut-down version of RISC OS. It required various network services to boot (including BOOTP and NFS). As a NetBSD user since the earliest support for Acorn hardware was added, I was familiar with both of these and it was a matter of a few hours to get the machine booting up from an Acorn RiscPC running NetBSD 1.2 The user interface of the Acorn NC was web-based; it booted into a web-browser and so the home screen, etc. was highly configurable. The NetBSD server needed software packages adding such as a web-server, web-proxy and email server. It also needed to be easy to upgrade and configure and so a web-based management system was developed. The server became known as the NCServer and was sold through the UK, mainly to schools.
As both the client and server components were tightly integrated, parallel to the server-side development of NCServer, the client-side environment was created and extended. This included high levels of customisation, a office application suite in collaboration with the biggest software houses in the Acorn market (NCWorks), the ability to connect to Citrix application servers and to run standard RISC OS software.
When Precedence was founded in March 1999, we acquired the rights to all of this. NCServer was renamed to NetManager and became more portable and performant as it was moved to more capable hardware. Initially we stayed with ARM processors using the CATS system from Simtec which supported much more RAM than the RiscPC and offered much better disc performance while still being 100% software compatible. Support for standard Intel hardware began to be added at the end of 1999. In 2001, it was re-architected from the ground up and NetManager now runs on modern 64-bit Intel servers running the latest software.
The first purchase order from Precedence was to buy 200 Acorn NCs from Xemplar's remaining stock. These quickly sold out and we purchased new machines direct from Taiwan with our own branding. We continued to sell and develop our own range of Network Computers to the mid-2000s; they were very popular with schools that had a history of using Acorn computers. The boot sequence environment was extended to allow booting from Windows NT, Acorn AUN Level 4 and Zip drives (for offline use), this became known as TotalBoot. The office application suite was sold as NCWorks.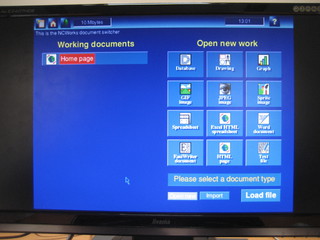 The NCWorks document picker
As the market's requirement for Acorn software dwindled, customers were migrated to standard thin-clients such as our ThinIT clients and software and the Network Computer product line was quietly shelved (literally, in the case of our office!).
To commemorate the 20th anniversary of the Network Computer and NetManager, we pulled out an unopened NC box from the two we kept for posterity to see:
How easy it would be to get it to boot
If it would connect to modern Citrix systems (XenDesktop and XenApp)
If we could remember how to use it!
The existing boot sequence was still sat dormant on one of our servers and the logon and home pages were still on the web-server. It only required a DHCP lease to be allocated and the NFS exports to be adjusted (due to increased security settings in the intervening years) and within a few minutes it was booted up at the familiar logon page: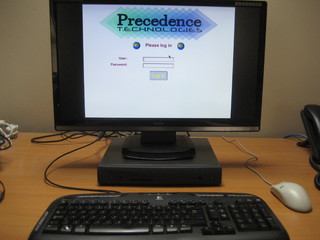 An NC system showing the login page
Our network logins just worked and the old home page was displayed showing links to the Web, Email, Windows, NCWorks, etc.: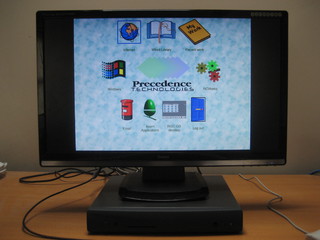 The home page showing the many tools available
Unfortunately, the Citrix ICA Client would not talk to our up-to-date XenDesktop 7.11 application servers. The software is dated 24th June 1998 and was developed to work with Citrix WinFrame 1.7 (NT 3.51). It continued to work with MetaFrame 1.0, 1.8 and XP on Windows NT 4 and 2000. It was definitely used with Windows Server 2003 and Citrix Presentation Server 3.0, 4.0 and 4.5, but the next operating system release (Windows Server 2008) was a few years after all clients were retired. Therefore we were very pleasantly surprised that it connected to XenApp 5.0 running on Windows Server 2008: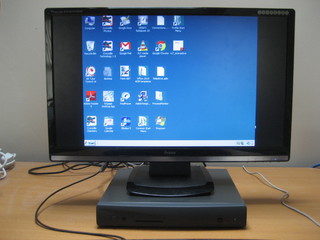 Windows Server 2008